The original article is over on the Football Blogging Awards website. Go check them out, then vote for me either up there at the top right of the page (if your on a desktop PC) or at the footer of this post if you are looking at it from a mobile)
I was double nominated for awards last year but unfortunately didn't win any (in best male and best comedy blog). No surprise really as I had competition against FitbaThatBa and The 4th Official who both won the respected categories that I was nominated in.
Some of you might be surprised about the comedy aspect, but my eldest twitter friends will tell you – I used to be funny before the days of racism and biting overshadowed football forever.
Anyway, the article:
It's Sunday. It's around 17:39 in the evening. The West Ham fans are ecstatic because they are leading 0 – 2 to their bitter rivals Tottington Hotspires. What's even greater is that it's away… AWAY!
Then, from out of the blue, Ravel Morrison hammers it from the half way line. He runs past a defender who desperately tries to keep up with him, grabbing at his pants, then another defender and heads towards the goal and the keeper comes out. As the keeper goes to ground to make a save, Ravel deftly lifts the ball over him and carries on running, following the ball into the goal.
The away crowd erupts. 0 – 3. Away… AWAY!
The final whistle blows and the game is over. The fans go on their merry way. The teams have their team talk and then get undressed – have their manly showers together then head off in their separate directions. It's going to be a great day in work tomorrow for the Hammers fans. Nothing better than an away win at your local rivals!
Then it starts to happen… "Wonder goal"… "Amazing"… "Superstar"… "Genius"…
What? Wait! Have I missed something?
Was it really a wonder goal? It wouldn't even make the top five in the Premier League this season so far. I'd go as far as to say that it probably wouldn't (well it didn't in my Goal Of The Week post) even get in the top five of Premier League goals this game week!
Don't get me wrong. It was a good goal. I'd have been out of breath after running 10 yards with the ball, and that's without a 6ft 4in defender on my tail trying to pull down my pants.
Sam Allardyce 9of Hippos That Look Like Allardyce game) goes one better and labels Mr Morrison a genius… I know… I know… I'll wait until you pull yourself up from the floor laughing.
.
.
.
.
Finished? Good!
Genius.
Albert Einstein, Thomas Edison, Beethoven, Plato, Munch, Dickens, Curie, Hawking… and Ravel Morrison…
FSS Sam. FFS Media. FFS internet. Get. A. Grip.
I'm glad he's put his sketchy past behind him, but he needs a few more games under his belt first before he's classed as a wonder goal scoring amazingly genius superstar.
Saying that, he's the saviour of English football and will win us a world cup along with that other famous Mancunian Adnan Januzaj.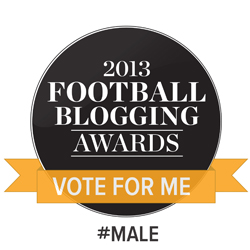 To vote, just click below. It even fills the tweet in for you!
I am voting in @TheFBAs for @FeintZebra as best #Male

Thanks to all those that have voted already. I imagine I'm up against some stiff competition again this year so the more the merrier. Doesn't cost you anything – unlike my request for you to help out my daughters local swimming club get £3k of funding (and even that only costs you your standard text rate, which in this day an age, falls under your free text bundle).
Wait. Whats that? Daughters swimming club? Raising funds? Ok ok. Here you go:
My daughters swimming club has the chance to win £3k funding via Lloyds. Can you help? Just text VOTE MDRA to 61119 (standard text rate)
So there you have it. It costs the swimming club £750 per 4 weeks to rent the pool for 9 hours a week. I do what I can personally to help, but, as with most local swimming clubs, its all about raising £££ to keep it afloat.
Means a lot to me as my eldest (7) daughter swims there. She's too young to compete at the moment (though she will be doing her first races next weekend at the Stockport Mini Meet Preps), but when she can properly compete, rumours are, she'll be turning a few heads 🙂
Thanks for visiting FeintZebra.